The Arctic is warming at twice the rate of the global average and soils are rapidly warming. Luke Schiferl is leading our work to understand the drivers of long-term trends in CO2, while Ludda Ludwig is working on terrestrial and aquatic CO2 and CH4 fluxes around the Arctic.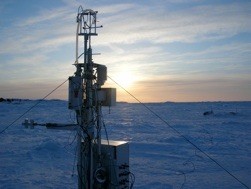 Recent Results
As part of the NASA Carbon in Arctic Reservoirs Vulnerability Experiment (CARVE) project and NASA Arctic Boreal Vulnerability Experiment (ABoVE), we calculated the emissions of methane and flux of carbon dioxide from Alaska. We also used NOAA data to examine the long-term trends in early winter CO2 respiration. Our work is continuing our research through a NSF Arctic Observing Network project with Harvard University.
Recent publications include: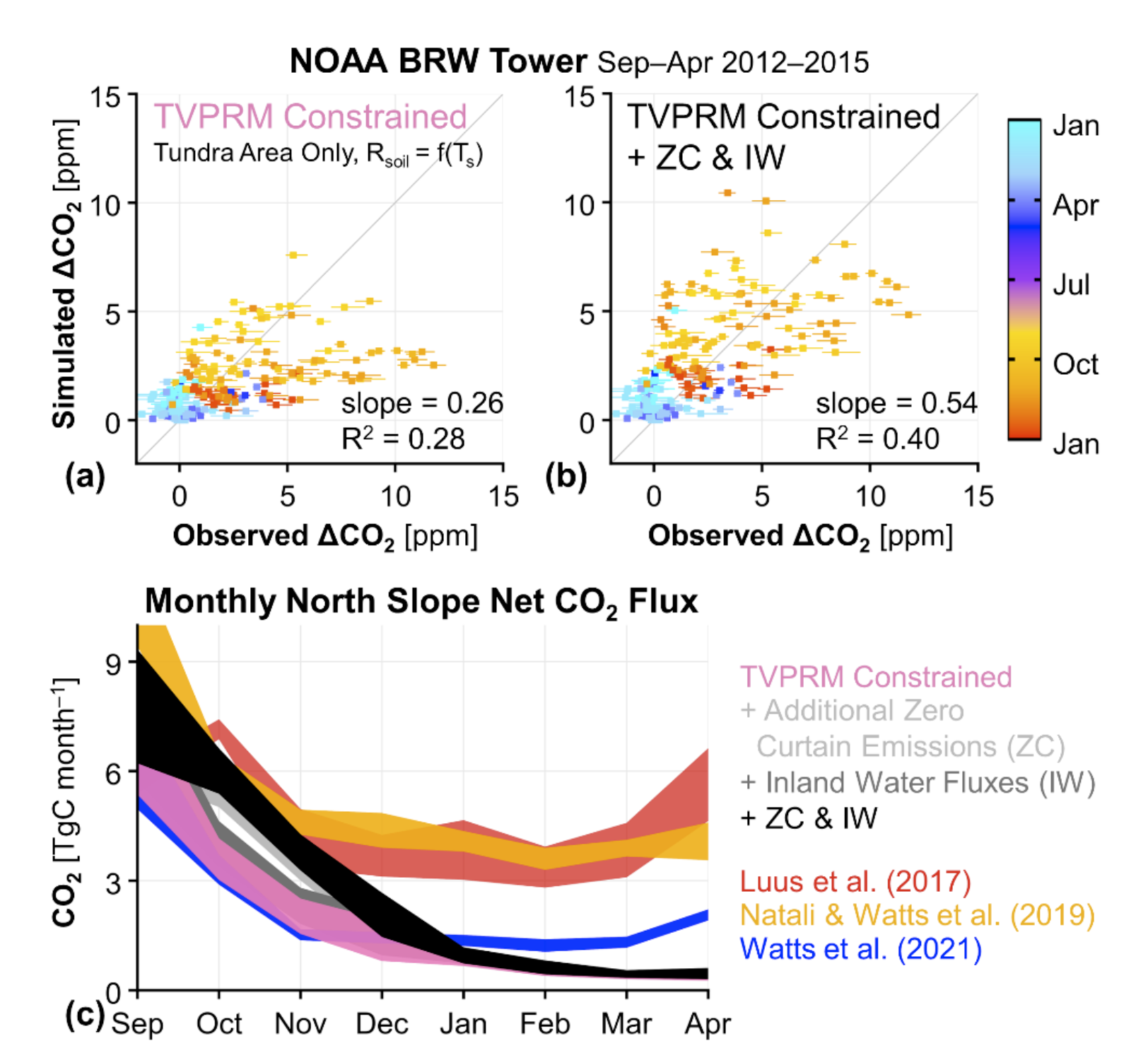 Results from Schiferl et al. 2022: Top-down and bottom-up carbon dioxide budgets are best reconciled when including zero curtain and inland water fluxes for the freeze-up shoulder season.
Explore numerous bottom-up parameter and map configurations, and how they compare to atmospheric observations, at Luke's TVPRM landing page
Commane Group in the News
12/2021: Quoted in Bloomberg article on Arctic permafrost thaw: https://www.bloomberg.com/news/articles/2021-12-13/arctic-fires-are-melting-permafrost-that-keeps-carbon-underground

09/2019: National Geographic: The Arctic
05/2018: Washington Post: The Arctic's carbon bomb might be even more potent than we thought
02/2018: Inside Science: Global Warming's Frozen Giant
01/2018:Commane et al., 2017 mentioned in an NPR article: Is there a ticking time bomb under the Arctic?   
05/2017: Washington Post article on Commane et al., 2017: We all knew this was coming: Alaska's thawing soils are now pouring carbon dioxide into the air
05/2017: New York Times article on Commane et al., 2017: Tundra May Be Shifting Alaska to Put Out More Carbon Than It Stores, Study Says
05/2017 Guardian article on Commane et al., 2017: Slow-freezing Alaska soil driving surge in carbon dioxide emissions
06/2016: Popular Science article based on Parazoo, Commane et al., PNAS, 2016: CO2 Emissions Data In Arctic Winter May Not Be As Accurate As Hoped
12/2015: Washington Post article on Zona, Gioli, Commane et al., PNAS, 2016: Bad News: Scientists say we could be underestimating Arctic methane emissions            
Arctic Organizations, Projects and Field Sites
   US Permafrost Association (USPA)
   Permafrost Young Researchers Network (PYRN)
Accessible Research Summaries